50h Inside Flow Teacher Training with Hie Kim (AYA certified)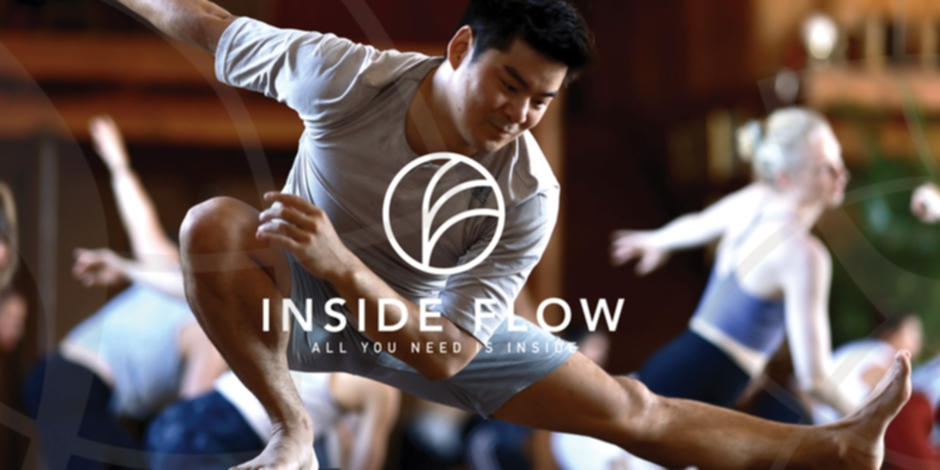 10-16 July 2023 – 10:00-17:00
Price: 900 €
Do you love Inside Flow? Do you want to learn how to share this practice with your students? Or do you already teach Inside Flow and want to refine your teaching skills and understanding of the practice?
Inside Flow Training – Content
1. Connection between breath and movement in Vinyasa Flow
You will learn how to bring your breath and movement together in harmony in vinyasa flow.
Graceful, honey-like movements combined with steady, even breath will allow you to dive deeper
into your flow practice and tap into your true physical and emotional strength.
You will also learn how to pass this on to your students for an optimal Inside Flow experience.
2. Music Theory & Teaching On Beat
You will learn how to analyze songs for your Inside Flow classes – "where is the verse?" "How long is the chorus?" "How many breaths make up the bridge?" We will take a close look at how to count the beats, create harmonious playlists, and use music in the room.
3. Creative Flow Creation – Flow Factory
How is an Inside Flow created? Which asanas make sense in which order? How do you make your transitions smoother? How is an Inside Flow structured? We will look at these questions and more, creating flows in groups. You will learn how to express yourself using Inside Flow with space for creativity within a clearly defined structure.
4. Sequencing – Class Structure
Once you've learned to teach on beat and how Inside Flows are structured, you'll learn how to teach these flows to your students and how to plan and structure your Inside Flow classes. We will look at different ways to break down your sequences, which order to teach them, and how to support your students when learning how to move on beat to the music. Using the systems and didactic methods we learn here, you'll not only create great Inside Flow classes but also transform your other yoga classes too.
5. Playlist and Storytelling
Emotion plays a key role in Inside Flow. On the one hand, you'll learn how to use music to create specific emotional energy in the room. On the other, we'll look at ways to incorporate emotional themes into your Inside Flow classes to pick up your students on all levels. This is where breath, movement, and music come together to create a practice for body, mind, and soul.
6. Certification and Licencing
The Inside Flow teacher training is internationally recognized and complies with American Yoga Alliance (AYA) guidelines. Once you have completed the teacher training and passed your exam, you will receive your Inside Flow certificate.
Please note: Inside Flow is a registered trademark. Those who teach Inside Flow are required to register on insideflow.com and pay an annual licensing fee.
7. Requirements
To take part in this teacher training, you should have completed your 200-hour yoga teacher training. In individual cases, you can also take part based on experience as a group fitness trainer. However, the Inside Flow teacher training does not include detailed consideration of asana alignment, so a general knowledge of yoga is required. A strong vinyasa practice, understanding of and passion for music, and of course, creativity is beneficial.
8. Classes on the IsideFlow teacher training course will take place every day from 10:00 - 17:00 (10 am - 5 pm)
Venue: Studio Namaste Yoga SNY; www.NamasteYoga.pl
Investment: Deposit 100 euros*. The entire amount (900 €) must be paid by April 1, 2023.
*The deposit is non-refundable.
Reservation: e-mail - sny@namasteyoga.pl; tel. +48 660 441 200
Hie Kim is one of the main teacher trainers of the legendary Inside Yoga Studio, which holds its teacher trainings in more than eight locations. There, he takes the role of the compassionate teacher trainer, that will let you conquer obstacles with knowledge and uncomfortable moments with humor. Hie teaches hundreds of yoga teachers every year and is well known in german speaking Europe and Asia. Hie Kim writes poems, books on yoga specific topics and organises the Yunion Yoga Festival in Gastein, Austria. Furthermore, Hie teaches multiple video series on the premium online yoga platform tintyoga.com
Hie's biggest premise in his Yoga classes is, that the class itself is created in the space between teacher and student. This reactive teaching style called "ECHO SEQUENCING" is an advanced training, that Hie teaches to established Yoga teachers. With a keen sense of methodology and a sensitive mind Hie Kim picks up his students right where they are and takes off to a journey where body, mind and emotions cross roads. His self-written shavasana poems are especially popular.
Promo Trailer
https://hiekim.de//wp-content/uploads/Hie%20Kim%20Promo%20Trailer.mov